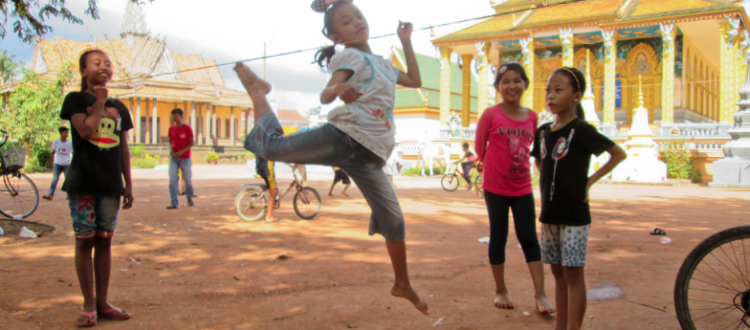 In je kracht komen door te sporten
For 2 weeks in June, Anjali House was fortunate enough to host a group of American volunteers from the S.E.L.F. Project. The S.E.L.F. Project (Sports Education Leadership Foundation) is a sports ambassador program that provides opportunities for youth to be empowered through sports, physical activity, and global and local service. Students travel abroad conducting sports clinics, distributing sports equipment, and building sports facilities for their host organisations.
Over their two-week stay, the S.E.L.F. Project conducted numerous sports workshops for all of the Anjali kids which included: yoga, dance, football, athletics, volleyball and baseball. In addition, they were also finishing off the basketball court that they had commissioned for Anjali House prior to their stay with us. The project donated $3500 for the initial build of our court and brought an extra $1500 in cash when they arrived. They also supplied in-kind donations of nearly 100 sports shirts, a large amount of sports equipment, as well as new flip-flops for each child and staff member.
The kids thoroughly enjoyed the two weeks of sports workshops that the S.E.L.F. Project had put together for them, and are still reaping the benefits of the new basketball court today. The court is frequently used by the kids for basketball, volleyball and football during their breaks and lunch, and they have promised to take very good care of it. Anjali House is incredibly grateful for all the time, energy, donations, and support of the S.E.L.F. Project, and we hope to see them again in Siem Reap soon!